September 8, 2017 By: Stephen Hennessey – There's a lot going on at Pinehurst. Gil Hanse's design team will start renovations on the resort's No. 4 course next month, and in the meantime, Pinehurst announced that its new nine-hole short course, The Cradle, will open on Sept. 30. Hanse's group also designed the short course, which features two holes less than 60 yards with the longest hole measuring 128 yards.
The Cradle joins the resort's 75,000-square-foot putting course, Thistle Dhu, as alternative golf options from the North Carolina destination. Thistle Dhu will re-open in October following an expansion project.
This follows a trend of more alternative courses opening in 2017, with the new Jordan Spieth-backed six-hole course at the University of Texas also opening this month. Tom Doak also unveiled his 12-hole par-3 course at Ballyneal, The Mulligan, in eastern Colorado, and Dan Hixson designed a nine-hole pitch-and-putt course at Silvies Valley Ranch, which opened earlier this year and also includes a reversible 18-hole course.
Here's the scorecard for The Cradle: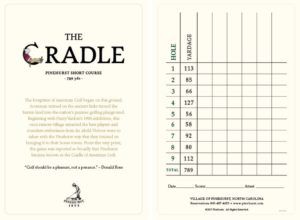 Here's Hanse discussing The Cradle with Pinehurst officials:
And watch Hanse give a tour of the punchbowl green at the third hole (captured in July, a day before the green was sprigged):
The No. 4 course, originally designed by Donald Ross, was redesigned by Tom Fazio in 2000, and Hanse's team will come in next month in start restoration work, with the goal of opening next fall.